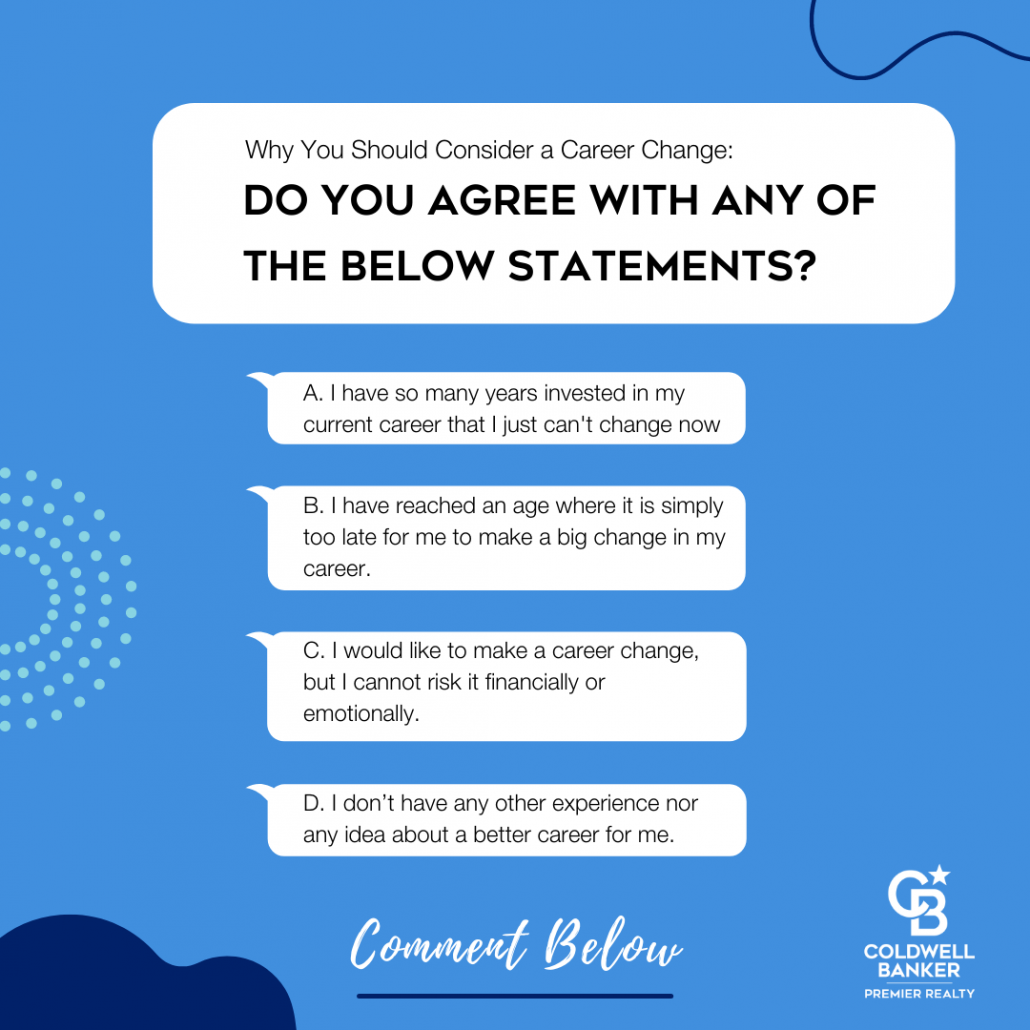 Five Signs it's Time for a Change (Why Real Estate)
Steve Foley, REALTOR® with Coldwell Banker Premier Realty
A Series from local REALTOR®, Steve Foley, on his unexpected career change and the benefits of owning his own business
What comes to mind when you consider your ideal professional happiness? Do you find yourself daydreaming about the amazing life you want to lead but are unsure how to get there? Thousands of people fail to make progress toward their aspirations and goals, while having a strong desire to do so.
Which of these statements do you agree with?
I have so many years invested in my current career that I just can't change now.
I have reached an age where it is simply too late for me to make a big change in my career.
I would like to make a career change, but I cannot risk it financially or emotionally.
I don't have any other experience nor any idea about a better career for me.
If you agree with any of the ideas above, you have a stuck mindset that is preventing you from making critical life adjustments. I've been there, unsure of what my prospects are in the face of hardship. As it turned out, the worldwide epidemic forced me out of my safe haven that I had proudly occupied for the last 21 years. I had to review my talents, what was essential to me moving ahead, and why this had to happen now after it became clear that I had no other option. I've always maintained that there would never be a better time for me to make such a significant shift in my life, yet here it is, right in front of my eyes. Being surrounded by real estate acquaintances and having worked in sales for years, I knew I had to investigate the idea of becoming a real estate agent.
Here are 5 things to consider when contemplating a career change in real estate:
You Want Financial Freedom
Real estate has limitless earning potential if you put in the work. There is no telling how much you can sell and how much you can make! Find reward in the success you can achieve from dedication and willingness to put forth the energy.
You Want to be Your Own Boss
Reaching out to my network of contacts, neighbors, relatives, and old friends helped me launch my new business. In real estate, no two days are the same. You oversee your time and schedule and organize it as needed to make the most of every minute. Create a schedule that keeps each day new and exciting, reviving it with new possibilities.
You're Wanting More Meaningful Work
It's been a therapeutic and gratifying experience to reconnect with so many friends and colleagues while developing my new business, especially after such a trying year for many in the hospitality industry. Every client has a story to tell, and you get to be a part of those significant milestone events, whether it's aiding first-time home purchasers or relocating a retired veteran to Las Vegas.
You Are Looking for Growth and Variety
In a market that is forever changing, you never know what the future holds, making this job so exciting. You must continue to educate yourself to keep up with the constant evolution of the industry. After enrolling in Key Realty School, I successfully earned my real estate license in just four weeks. You will always be learning, and Coldwell Banker Premier Realty gives you access to powerful programs, virtual training and self-paced options designed to help you throughout your career – with topics like maximizing productivity, business-building and lead generation and conversion.
Looking for Job Security
During the pandemic, the housing market was booming, and demand for houses has only grown since then. COVID-19 has had an impact on both supply and demand as a result of the low mortgage rates that have increased affordability for homeowners. Furthermore, the growing popularity of working from home has increased the demand for greater space and at-home amenities. This makes real estate a very profitable businesses to be a part of right now.
While lack of expertise, fear of failure, and apprehension about sacrificing financial stability are all acceptable reasons to delay a job shift, reevaluating your position and aspirations will reveal that all changes need adjustment, learning, and keeping an open mind.
If you are looking to take the leap into real estate, please visit cbprcareers.com to learn more about a career in real estate and get an exclusive friends and family discount to Key Realty School. If you're interested in buying, selling, or leasing a home, contact me directly at 702.210.2083 or visit my website at stevefoley.cbvegas.com to start your home search.
This article was contributed by Steve Foley of Coldwell Banker Premier Realty Lic. S.0192048 as part of a series of articles on changing careers. Equal Housing Opportunity.
https://pouredinc.com/wp-content/uploads/2021/08/Foley-Feature_Header-1.png
1080
1920
John Paddon
https://pouredinc.com/wp-content/uploads/2019/04/logo_ok-2.png
John Paddon
2021-08-14 02:07:48
2021-10-16 05:56:56
Steve Foley Changing Careers, Part 2